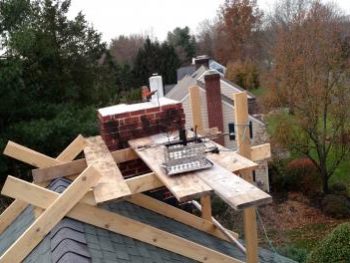 Having an extensive background in building masonry fireplaces makes it is easy for us to troubleshoot ongoing water issues and recognize potential hazards affiliated with fireplace construction. Water intrusion and construction defects are usually the issue that exponentially deteriorates a chimney when not addressed in a timely fashion.
Masonry Chimney Repairs in PA
Homeowners usually find out that a chimney repair is needed when it is too late and the damage requires tuck-pointing of the brickwork or rebuilding the top of the chimney.  When working at a high elevations on a difficult roof, safety is paramount and should never be overlooked.  Sometimes the most difficult part of working on a chimney repair is just getting to the top. Tor Chimney takes the time to setup scaffolding and build a necessary work platform to carry out the chimney repair in safe manner.