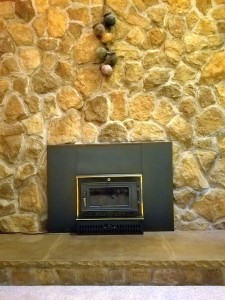 Here at TOR Chimney & Fireplace, we believe that a fireplace makes a valuable addition to any home. There is something universally charming about the warmth, smell and ambiance of crackling logs. If this is something that is important to you, then it can be very difficult to settle on any alternatives, such as gas fireplaces or pellet stoves. No matter how convenient they may be!
But typical wood-burning fireplaces are expensive to maintain, inefficient, and environmentally hazardous. They provide an irreplaceable experience, but does that experience have to come at such a high cost?
Fortunately, there is a way to maintain the authentic wood-burning experience while cutting back on these downsides. Wood stove fireplace inserts are a modern solution to many traditional fireplace issues. This innovative technology has many selling points to improve your quality of life while providing that simple, earthy, wood-fire experience.
Maintenance of wood-burning fireplace inserts is much cheaper than maintenance of a traditional fireplace.
Installation can be very affordable, and the home will receive a brand new and clean fireplace in pristine condition.
The insert will incinerate dangerous chemicals emitted from the wood, resulting in a healthier energy footprint.
The insert will be more efficient than a traditional fireplace as a heating system. The technology is designed to circulate the heat into your home rather than exhausting it into the chimney chute. The wood-burning insert will therefore provide more heat per log than its traditional counterparts.
Wood-Burning Insert Installation in PA & NJ
If you are thinking of getting a wood-burning fireplace insert installed in your home, then look no further than TOR Chimney. We have been the trusted provider of PA & NJ's fireplace and chimney needs for over 15 years, we pride ourselves on the quality and consistency of our work. We are passionate about fireplaces, and aim to provide our community with the best service possible. So don't hesitate to contact us today if you have any questions, concerns, or a job that needs doing. TOR Chimney is here for you.