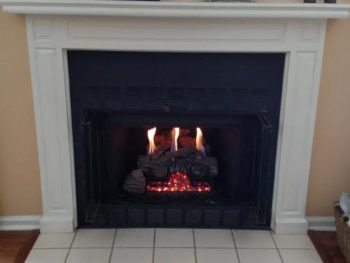 When we are installing your brand new gas fireplace or gas log set, we will also be installing your gas line. It is important to make sure adequate gas supply can be delivered to a newly installed gas appliance. It is important to draw a gas Riser Diagram and figure out total BTU's used when sizing the gas piping in the household before a new appliance is installed. This can affect flame height and heat output of any new gas fireplace installation or log set is not sized correctly.
Gas Fireplace Installation & Service
We can tap off of your existing gas main in your house or stub a gas line outside for your gas supplier. All installed gas lines will be pressure checked and have the necessary shut off and Dante valves as per Building Code Requirements. We also take the time to sleeve the gas line in a protective cover if it is outside or in an area of potential risk.
Real Fyre Gas Logs

Nothing compares to sharing the warmth and beauty of a fire. Now you can enjoy all that with none of the hauling, soot and ashes. That's what a fire is meant to be. For more than 65 years Real Fyre has been creating the most beautiful gas fire products you can buy. We build gas fireplace logs so authentic looking, they're equally beautiful with or without a fire burning. And for those seeking a more contemporary look, Real Fyre also offers a wide range of stunning glass and stone designs. Tor Chimney will install them, next day!