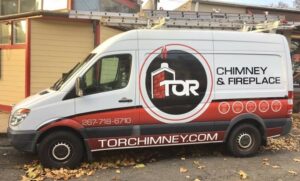 The NFPA recommends cleaning and inspection annually, Tor Chimney & Fireplace utilizes the latest technology in the industry to perform a thorough and professional service. Every truck is equipped with a Chim-Scan video inspection system that is used with every service call. The video inspection system ensures the integrity of the fireplace and chimney for continued use. The work area is prepped with drop cloths and uses a HEPA vacuum for a dust free experience.
A Level 1 inspection is recommended maintenance for our existing customers or if you've had a Level 2 inspection done the previous season. Your technician will verify the chimney is free of obstruction and combustible deposits, check the basic installation and connections as well as the chimney structure and flue.
A Level 2 chimney inspection is standard for all new customers unless you've previously had a Level 2 Inspection completed by a licensed chimney professional. Our Level 2 Sweep & Inspection includes a sweep of your firebox and flue first, followed by a full visual inspection with Chim-Scan Evaluation system. We will also inspect the construction and integrity of your chimney. You will receive a full report with findings, pictures, and recommendations following the inspection. Per NFPA regulations, we must also inspect any additional flues within the same chimney, if any.
A Level 3 inspection is only necessary after a Level 2 has been performed and it is found that the removal of certain components of the building or chimney are necessary to gain access in order to complete the inspection.