Providers of Gas Fireplace Inserts in Bucks County PA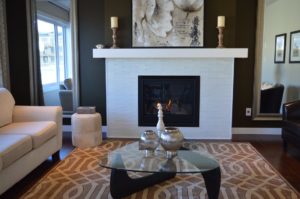 TOR Chimney & Fireplace is the premier community-driven provider of gas fireplace inserts in Bucks County PA. Here at TOR, we are committed to giving our local neighborhoods the best services and options available on the market when it comes to their fireplaces and chimneys. We have faithfully handled the fireplace needs of Bucks County for over 15 years, and the consistency and quality of our work is something we take pride in.
In this blog post, we want to tell you about the benefits of gas fireplace inserts, a feature we've proudly installed in many homes in the area. Learn all about what makes this popular feature so appealing.
What Are Gas Fireplace Inserts?
Gas fireplace inserts are the leading home-improvement technology when it comes to fireplaces. These are steel-shell systems that are installed in existing, outdated masonry fireplaces in order to repurpose them into efficient heating appliances. The finished product of one of these insert installations is a fully functioning, ventilated and charming gas fireplace that can even mimic the appearance of a classic wood-fueled fireplace.
Why Are Gas Fireplaces Superior?
Gas fireplaces offer many benefits to a household. Compared to wood-fueled fireplaces, they are…
Easier to maintain
Require less cleaning
Easier to operate
Safer
When burning wood up through a chute in the wall, many issues can accumulate over time. These include creosote buildup, pollution of air quality, the generation of soot, ash, and more. These things not only pose inconveniences and waste a lot of time, but they are potentially harmful to your household and its inhabitants.
Request an Install Consultation Today
The installation job itself is perhaps the most important moment of your fireplace maintenance life-cycle, and as you might read on our installations page, poor work here will cost you down the road. So have your home treated by Tor Chimney & Fireplace, the provider of gas fireplace inserts Bucks County PA trusts!
Contact us today for a consultation!