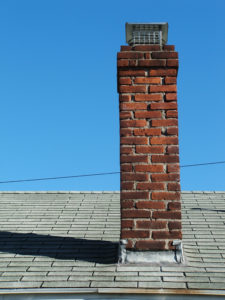 We want to make this clear up front: we're not writing this post to scare you.
But the fact remains that a leading cause of home-heating fires is creosote build-up in people's chimneys. That's according to the National Fire Protection Association, which recommends having your chimney cleaned each year.
Let's take a look at some of the reasons why an annual, professional chimney cleaning is a good idea:
1. It's good for your health
A chimney that's blocked or that has a malfunctioning flue can send carbon monoxide spewing into your home. This deadly gas is produced whenever fuel is burned. In low amounts, it can cause nausea, dizziness, headaches and fainting.
It can be fatal, of course, but even lower-level exposure to CO1 gas can lead to permanent brain damage or organ damage.
2. You'll avoid smoke damage
Soot will accumulate in the chimney's flue without regular chimney cleaning. This means the flue has a tougher time drawing smoke out of the fireplace and up into the chimney. That smoke will then travel back out of your fireplace and into your home.
When that happens, soot will begin to soil your walls, floors and curtains. Smoke can even leave your furniture smelling smoky and leave black stains around your chimney that are difficult – if not impossible – to scrub away.
3. Cleaning can prevent chimney fires
The most common cause of chimney fires is creosote. This is a black – or sometimes brown – tar-like substance formed from burning wood. It collects inside your chimney over time, leaving a flammable glazing along your bricks.
If the creosote catches fire, flames can quickly spread into the walls of your home. Chimney fires can be dramatic, but they can also burn slowly without being visible to people outside.
4. It's good for your insurance policy
Many insurance policies have mandates for homeowners requiring them to have their chimneys cleaned once each year. If you don't have proof that your chimney was cleaned, your insurance carrier may not cover you in the event of a fire.
These are the big ones. Here are a few other reasons why it's important to have your chimney cleaned:
It's a good idea to make sure birds, squirrels and other critters aren't nesting in your chimney.
It's a bad idea to try to clean your chimney yourself. It's a messy job, and you may not know what to look for.
A professional chimney sweep can check your chimney for cracks and other structural damage.
If you're concerned about the state of your chimney, contact Tor Chimney & Fireplace. We've been cleaning chimneys in Bucks and Montgomery counties in Pennsylvania – as well as Hunterdon and Mercer counties in New Jersey – more than 16 years.
We hold all of the proper certifications needed to inspect your chimney to have it ready in time for the fall/winter heating season. Our teams use the latest technology in the industry to give your chimney a thorough, professional chimney cleaning, so you can rest assured knowing your home is safe.