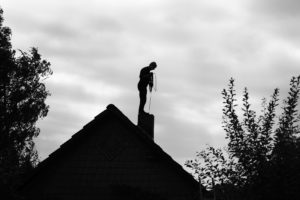 When summertime comes and the temperature rises, your fireplace is probably the last thing on your mind. But even if your fireplace won't be burning for the next few months, that doesn't mean you shouldn't pay it any mind.
This is the perfect time of year to get a fireplace and chimney cleaning and inspection. Most people get their chimneys swept and inspected in the summer or early autumn, so the sooner you schedule your appointment, the better.
Although it's best to have a professional inspect and provide a full chimney cleaning service, there are steps you can take to clean your fireplace yourself:
Remove any soot, ash or debris from the fireplace before you start cleaning.
Don't clean your fireplace until it's completely cooled.
Make sure you're not using a flammable liquid to clean a brick or stone fireplace. It will be hard to clean this material off and will create a fire hazard.
Bleach can cause stone to fade. If there is bleach in the cleaning solution you've chosen, use it sparingly. To be sure, test your cleaning solution on a spot that's harder to see and wait 24 hours. If that spot doesn't fade, the solution is safe to use.
Reasons for Fireplace & Chimney Cleaning
Still, there are issues with your chimney and fireplace that a professional chimney sweep can help remedy. Here are five of the most common problems a chimney inspection/cleaning can solve:
Smoke damage – If your chimney isn't cleared out, you might get small amounts of smoke blowing back into your home. This could lead to smoke damage: stains on your furniture, smudges on your bricks, and a smoky smell in the air.
Creosote – Creosote is a black (or dark brown) tar-like substance that forms when you burn wood. As smoke rises from the fireplace, creosote can collect inside the chimney. This is dangerous. Creosote is flammable, and can become so thick that it begins to clog the chimney, sending deadly carbon monoxide into your home.
Blockage – It's not just creosote that can block your chimney. Leaves, debris, birds' nests and even bricks can fall into the chimney and create a blockage. And like creosote, anything that blocks your chimney can send dangerous fumes into your home.
Cracks in the flue – The flue is the clay tile that lines the inside of the chimney. As time goes by, the heat and stress of everyday use can cause the flue to begin to crack. This can be a fire hazard, because the cracks allow heat from the fire to reach combustible parts of your home. A professional chimney sweep can inspect the flue for damage. If they find the flue is cracked, you'll need to have it repaired before you can use your fireplace.
Brickwork issues – As solid as they are, bricks don't last forever, especially the ones in your chimney. Mortar can break down due to rising and falling temperatures and moisture. As bricks shift and fall out of place, it puts the structure of the chimney at risk. A professional inspection can spot these problems before they become too serious.
Don't wait until the end of summer to have someone look at your chimney and fireplace. TOR Chimney and Fireplace can sweep and inspect your chimney, and even provide masonry restoration.
We're certified by the Chimney Safety Institute of America and the National Chimney Sweep Guild, and have been servicing fireplaces and chimneys in Bucks, Montgomery, Hunterdon and Mercer counties for 16 years. Contact us now, so you won't have to worry about your chimney when it comes time to use it.