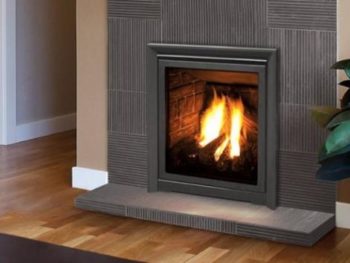 Nothing beats a warm crackling fire in the winter, but fussing with logs, firestarters, newspapers, ash and soot is enough to keep anyone from enjoying their masonry fireplace. If you're one of those homeowners neglecting their fireplace because of the hassle involved, gas fireplace inserts can save you a ton of trouble and money.
A gas fireplace inserts is essentially a stove fitted to your existing masonry fireplace so that you can have a real fire at the flip of a switch. Besides the obvious benefit of convenience, there are several other reasons you might opt for a gas fireplace insert in your home.
Save money with efficient heating. Masonry fireplaces can be drafty and inefficient, so if you're relying on your fireplace to keep you warm while trying to turn down the furnace, you probably won't get very far. The gas inserts we sell at Tor Chimney burn with an average of 80% efficiency rating, so you'll be able to turn down the furnace or zone heating while you're sitting fireside.
No more mess cleanup. With gas inserts, you won't be scooping up ash, chopping wood or buying firestarters. You'll have a fire instantly without the mess!
Less pollution and smoke. Because of how efficient gas fireplace inserts are, the amount of pollution/smoke produced will be greatly reduced from that of a drafty masonry fireplace.
Heat your home without power. Upgrading from the old-fashioned way doesn't mean you have to go without a fire during a power outage!
Advanced safety features. As long as your gas insert is installed by a professional with years of experience, it's a safe way to enjoy a fire. Each insert comes with a safety screen and a variable speed blower so you are in complete control of the fire.
Gas Fireplace Insert Installation in PA & NJ
As with every job we undertake at Tor Chimney, safety is our top priority. We pride ourselves on our 16 years of service to PA and NJ and the experience that goes with it. Handling gas lines and supplies is not a job for an amateur—you'll need an expert that ensures every job is completed safely and up to building codes. That means triple checking pressures, clearances and vent configurations so you not only have a beautiful fireplace, but a functional one.